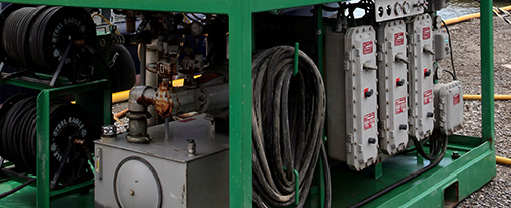 Corporate Headquarters
PMI Environmental Services
9761 US 90 Business
Morgan City, LA 70380
Phone: 985-631-3837
Fax: 985-631-0729
Toll Free: 888-229-3837
Resources
Automated Tank Cleaning Machines — MudHog
PMI's Automated Mud Tank Cleaning System is a highly innovative process for cleaning mud tanks on marine supply vessels, mud pits on drilling rigs, and portable containers used in drilling and production.
The efficiency of the MudHog Process consistently reduces downtime in marine and rig fleets for our customers.
While typical conventional mud tank cleaning or competitors automated cleaning systems run multiple days, especially on deep-water vessels, the MudHog process typically shrinks the timeline to 24 to 48 hours making it consistently predictable.
Value is created for our customers through increased efficiency in their logistics and transportation groups as well as reducing their operating cost.
PMI has been using the MudHog System as its primary method for cleaning mud tanks for over 4 years on over 200 Marine Supply Vessels and Barges for over 15 different customers, including four Major Oil & Gas producers.
Features and Advantages of MudHog System
Eliminates extensive man-hours in confined spaces
Cost effective - performed at conventional contract rates
Wash water disposal cost greatly reduced
Portability of unit - clean at any designated waste transfer station
Creates a safe job site work environment

Reduces manpower
Less equipment clutter