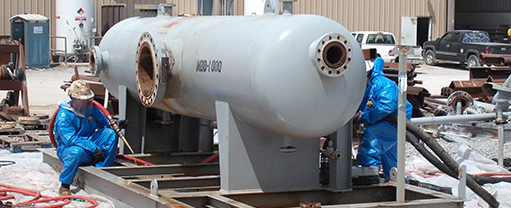 Corporate Headquarters
PMI Environmental Services
9761 US 90 Business
Morgan City, LA 70380
Phone: 985-631-3837
Fax: 985-631-0729
Toll Free: 888-229-3837
Resources
Safety and Quality
At PMI, our commitment to safety is unsurpassed. We are dedicated to conducting business in a manner that protects the environment as well as the health and safety of our employees, customers, contractors and the general public.
We firmly believe that there is no service or job so urgent that we cannot take the time to complete it safely. This philosophy is shared by all PMI employees. We don't just publish a safety plan, we live the plan by providing our employees with the tools and training needed to perform their jobs safely and correctly.
All of our employees are empowered to invoke Stop Work Authority - helping to ensure that we do the right thing, the right way, for the right reasons toward avoiding risk and protecting people and the environment.
At PMI, our commitment to safety is embodied in our custom-built, five-day employee training program. This program far exceeds the minimum standard for our industry, and the result of our impeccable safety standard is evident in the fact that PMI has the lowest OSHA Recordable Incident Rate and the lowest Experience Modification Rate in the industry.
We believe that safety and quality go hand in hand - you cannot have one without the other. By striving to provide a work environment that is free from unacceptable risks and hazards, PMI helps to ensure the safety of our employees and the quality of our work.