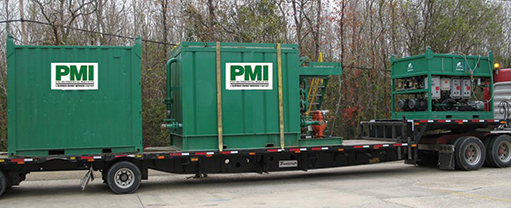 Corporate Headquarters
PMI Environmental Services
9761 US 90 Business
Morgan City, LA 70380
Phone: 985-631-3837
Fax: 985-631-0729
Toll Free: 888-229-3837
Resources
Drilling Cleaning Services
PMI's Drilling Cleaning Services Division consistently reduces downtime in marine fleets for its customers due to the efficiency of our Tank Cleaning Machines. While the typical conventional mud tank cleaning or competitors' automated cleaning systems run multiple days – especially on larger deepwater vessels – our MudHog process typically shrinks the timeline to 24 - 48 hours. In turn, this creates increased efficiency in the logistics and transportation groups of our customers while reducing their operating costs. Other quantifiable savings are realized in the MudHog process through waste reduction during cleaning operations.
Tank Cleaning Machines
Our automated mud tank cleaning system is a highly innovative process for cleaning mud tanks on marine supply vessels or liquid mud systems on drilling rigs.
Some of the many advantages of automated cleaning include:
reduces port time/downtime
eliminates extensive man-hours in confined spaces
greatly reduces amount of wash water
reduces cost of waste handling and disposal
reduces safety risks and spill risks
Rig Systems Cleaning
PMI Environmental Services has the experience, expertise and technology to provide our customers with the highest quality of both conventional and automated rig cleaning services.
Our new cleaning technology brings our customers many advantages including:
lowers rig costs by reducing downtime and expediting demobilization of the rig
eliminates extensive man-hours in confined spaces
lowers costs and liability associated with containerization and disposal of wastes
reduces safety risks and spill risks
Dry Bulk Tank Cleaning
PMI's diverse fleet of mobile air movers provides our customers with a choice in waste containerization and disposal. For those choosing local disposal options for small quantities, a Guzzler NX offers industry leading vacuum technology and filtration along with unmatched sound suppression in recovering a wide range of materials including barite and cement. Or using our Vector VecLoader offers the option to discharge recovered materials directly into a supersack, vacuum box, or other collection devices without augering, dumping, or shoveling.