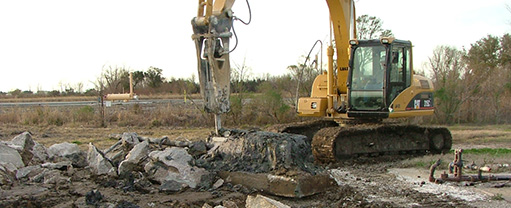 Corporate Headquarters
PMI Environmental Services
9761 US 90 Business
Morgan City, LA 70380
Phone: 985-631-3837
Fax: 985-631-0729
Toll Free: 888-229-3837
Resources
Environmental Services
Our Environmental Services division was established to meet the ever-changing needs of our customers. We are dedicated to providing customers with the highest quality of work and a "can do attitude" to handle any challenges that may arise. PMI has a complete package of integrated services to provide our customers with the answers to their E&P and NORM waste concerns from permitting to project release.
Our experienced team of professionals is qualified to handle all aspects of remediation and restoration activities, including:
Tank Battery Decommissions
Pipeline Remediation and Abandonment
Waste Minimization
29-B Compliance
NORM Site Assessments
Soil Remediation (NORM)
Compliance Orders
Well Plug and Abandonment
Project Management
We also house a full-time Project Support Group that provides technical support related to geographic information systems (GIS), coastal and wetland permitting, and preparing Louisiana Department of Environmental Quality (LDEQ) and the Department of Natural Resources (DNR) reports and correspondence.
Field Surveys & Assessments
NORM Confirmatory, Informational and Release Surveys
Environmental Assessments and Sampling
Land Profiling and Sampling
Equipment, Barge and Rig Contamination Surveys
Property Transfer Surveys and Assessments
Wetland and Underwater Sampling and Surveys
Remediation
Soil (Upland, Wetland, Marsh or Underwater)
Pits (29-B and Industrial)
Water Bottoms
Site Restoration
Waste Handling & Processing
Waste Minimization, Separation and Segregation
Waste Processing, Blending, Grinding, Slurrying, Pumping and Injection
Encapsulation
Waste Packaging and Management
On-Site Sludge De-Watering and Water Treatment
Cleaning, Decontamination & Decommissioning Crews
Facility Decommissioning
Tanks, Vessels and Equipment
Pipeline Abandonment and Removal
Ra-226 Field Screening
Waste Analysis and Characterization
Remediation and Disposal Monitoring
Compliance Order
Cribbing Removal
Project Management
Site Restoration
Well Plug and Abandonment Activities