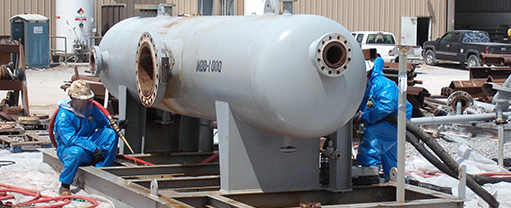 Corporate Headquarters
PMI Environmental Services
9761 US 90 Business
Morgan City, LA 70380
Phone: 985-631-3837
Fax: 985-631-0729
Toll Free: 888-229-3837
Resources
Production Maintenance Cleaning Services
PMI Environmental Services provides a comprehensive range of tank and vessel cleaning services both onshore and offshore. We offer conventional cleaning services as well as on-line cleaning through the use of our innovative VICTA system (Vessel In-Service Cleaning Tool Assembly).
Maintenance
NORM Survey of Equipment and Product Tubing
Above Ground Storage Tanks
Offshore and Onshore Conventional Tank and Vessel Maintenance Cleaning and Degassing for Refurbishment
Flex Lancing Facility Deck Drains and Tank and Vessel Inner-connected Production Process Piping
VICTA system — In-Service Production Vessel Cleaning
Amine System Cleaning and Rehabilitation
Glycol System Sampling, Cleaning and Rehabilitation
Particle Filtering for Sensitive New Fabrication
Hot Oil Filter for Compressor Lubrication Oil Systems and Hydraulic Systems
Chemical Cleaning, Pickling and Passivation of New and Existing Heat Exchanger Piping
Platform Washdown and Drain Maintenance
Decommissioning
Offshore and Onshore Facilities Decommissioning Cleaning for Removal
Offshore and Onshore Facilities Decommissioning Cleaning and Pickling for Future Utility
Offshore Pipeline Decommission Flushing and Pickling for Future Utility
NORM
As a full service solutions company, PMI has comprehensive capabilities to meet our customers' Naturally Occurring Radioactive Material (NORM) needs. We are one of the environmental industry leaders in NORM removal. Our Louisiana Department of Environmental Quality (LDEQ) - specific NORM license for decontamination, remediation and waste processing ensures that we can handle each customer's unique needs from permitting to project release. We are the NORM experts.
VICTA
PMI's VICTA on-line cleaning system allows PMI to clean critical path production vessels while on-line and efficiently remove sand from critical path production vessels. Some of the benefits of the VICTA system include:
Reduces downtime and increases production run time on critical path process vessels
Allows for operation at peak efficiency for longer periods of time
Brings a higher return on investment to operator
Reduces amount of wash water generated during the sand removal process
Reduces cost of waste handling and disposal of unnecessary wash water through recycling
Reduces safety risks and spill risks
Eliminates extensive man-hours in confined spaces
Improves incident rates and safety performance for the contractor and the facility